Astigmatism and How It Impacts Your Eyesight
Astigmatism and How It Impacts Your Eyesight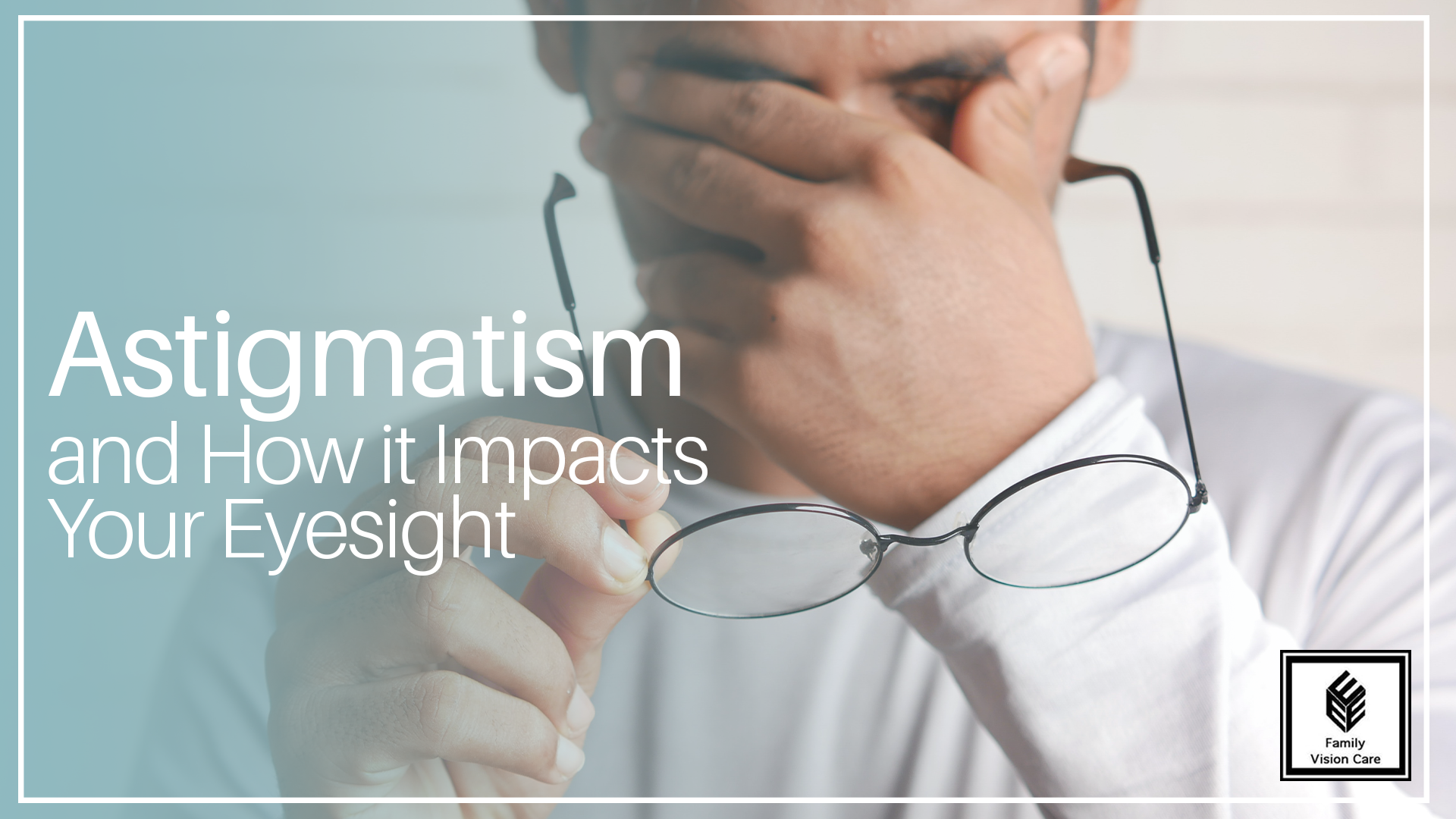 Astigmatism is a common eye condition that affects millions of people worldwide. It occurs when the cornea, the clear front surface of the eye, or the lens within the eye, has an irregular shape. This irregularity causes light entering the eye to focus on more than one point, resulting in blurred or distorted vision. 
Understanding astigmatism is crucial as it can significantly impact an individual's quality of life. People with astigmatism may experience difficulty in seeing objects at any distance, whether they are near or far. The blurriness or distortion can make activities such as reading, driving, or recognizing faces challenging. Not only that, but people with other vision problems, including nearsightedness and farsightedness, can have astigmatism, meaning their vision issues are compounded. 
In this blog, we will delve into the different types of astigmatism and explore the various symptoms associated with this condition. We will discuss the importance of comprehensive eye exams and the available treatment options to correct astigmatism and achieve clearer vision. 
What is Astigmatism? 
Astigmatism is a common eye condition caused by irregularities in the shape of the cornea or lens, leading to blurred or distorted vision. The cornea should ideally be smooth and spherical, like a basketball. However, in individuals with astigmatism, the cornea often has a more football-like shape. 
This irregular shape causes light entering the eye to focus on multiple points instead of a single point on the retina, resulting in blurred vision.  
Irregular vs Regular Astigmatism 
Two of the different types of astigmatism include regular astigmatism, where the cornea is curved more in one direction than the other, and irregular astigmatism, which is caused by an asymmetrical lens or cornea. 
There are biological factors that can contribute to astigmatism. For example, irregularities in the cornea's shape may be present from birth or can develop over time due to factors such as eye injury, eye surgery, or keratoconus, a condition in which the cornea gets thinner and bulges outward into a cone shape. 
Corneal and lenticular Astigmatism 
In addition to irregular and regular astigmatism, there are two other types of astigmatism, corneal and lenticular.  
Corneal astigmatism occurs due to an issue in the cornea that causes blurry vision or distortion. Likewise, lenticular astigmatism is the result of a problem with the lens. Both cause blurriness and distortion in the vision and can be compounded by other eye issues to cause more severe astigmatism.  
It's important to have regular eye exams to detect and diagnose astigmatism early. Treatment options may include wearing corrective lenses such as glasses or contact lenses to help focus light properly on the retina. In some cases, refractive surgery, such as photorefractive keratectomy or laser eye surgery, may be recommended to reshape the cornea and correct astigmatism. 
Symptoms of Astigmatism 
Symptoms of astigmatism may vary from person to person, but there are common indicators that can help identify this eye condition. Below are some of the most common symptoms of astigmatism. If you are experiencing any of these symptoms, schedule an appointment with your eye doctor.  
Four Most Common Astigmatism Symptoms: 
Blurred or fuzzy vision 


Difficulty focusing on fine details and objects 


Eye aches and discomfort 


Trouble seeing at night 
Recognizing these symptoms is crucial for early detection and prompt treatment. If you notice any of these signs, it is recommended to schedule a comprehensive eye exam to determine whether astigmatism or any other eye condition is present. Your eye care professional can assess the degree of astigmatism and discuss suitable treatment options. 
Don't ignore the symptoms of astigmatism. By addressing these issues promptly and seeking appropriate care, you can improve the clarity of your vision and enhance your overall visual experience. Regular eye exams play a vital role in maintaining eye health and detecting astigmatism early on, allowing for timely management and treatment. 
Astigmatism often occurs in children. This blog is your guide for identifying and correcting vision problems in school-age children! 
Diagnosing Astigmatism 
Diagnosing astigmatism is a crucial step in managing this common vision problem. Optometrists use comprehensive eye exams to evaluate and diagnose astigmatism, in addition to other potential eye conditions. Regular eye exams are essential to identifying astigmatism and other vision issues early on, allowing for timely treatment and better visual outcomes. 
During a comprehensive eye exam, optometrists use various tests and procedures to diagnose astigmatism. One of the primary tests used is a visual acuity test, in which you read letters from an eye chart to assess the sharpness and clarity of your vision. This test helps determine if you have blurred or distorted vision that could be caused by astigmatism. 
Another test that optometrists use is a refraction test. In this test, you will be asked to look through a series of lenses to determine the specific degree of astigmatism you have. This test helps the optometrist gauge the severity of your astigmatism and determine appropriate treatment options. 
Optometrists may also use a keratometry test or a corneal topographer, which measures the shape and curvature of the cornea. This is particularly helpful in diagnosing corneal astigmatism, which affects the shape of the cornea, leading to astigmatism. 
Recognize the symptoms of common eye diseases when you read this blog! 
How Do You Treat Astigmatism? 
Treatment options for astigmatism include corrective eyewear, contact lenses, and refractive surgery. These options aim to provide clearer vision by correcting the irregular shape of the cornea or lens. 
Corrective Eyewear 
Corrective eyewear, such as glasses, is a common and non-invasive option for astigmatism. Glasses with specially designed lenses help to focus light properly on the retina, providing clearer vision. They are easy to use and can correct both near and distance vision. However, some people may find glasses inconvenient or uncomfortable to wear. 
Contact Lenses 
Contact lenses are another popular choice for astigmatism. Toric lenses, specifically designed for astigmatism, have different powers in different meridians of the lens, allowing for precise vision correction. Contact lenses provide a more natural field of vision and do not interfere with daily activities.  
Refractive Surgery 
Refractive surgery, such as photorefractive keratectomy (PRK) or laser-assisted in-situ keratomileusis (LASIK), is a permanent solution for astigmatism. These surgeries reshape the cornea, correcting its irregular shape and improving vision. The benefits include long-lasting results and freedom from glasses or contact lenses. However, not everyone is suitable for surgery, and there are potential risks and complications associated with these procedures. 
It is important to consult an eye care professional to determine the most suitable treatment option for your specific case of astigmatism. They will consider factors such as the degree of astigmatism, lifestyle, and personal preferences to guide you toward the best choice for clearer vision. 
Living with Astigmatism 
Living with astigmatism can pose some challenges, but with proper management and care, it is possible to maintain good eye health and minimize the impact on daily activities. Here are some practical tips and advice for living with astigmatism: 
Regular Eye Exams: Schedule regular comprehensive eye exams to monitor your astigmatism and overall eye health. This will help your eye care professional keep track of any changes and adjust your treatment plan accordingly.


Corrective Lenses: Whether it's glasses or contact lenses, wearing the correct prescription is crucial for clear vision. Discuss with your eye care professional the best option for your specific needs and lifestyle.


Proper Lens Maintenance: If you choose contact lenses, make sure to follow the recommended cleaning and wearing schedule. This will help prevent any discomfort or eye infections associated with improper lens care.


Protect Your Eyes: Shield your eyes from harmful UV rays by wearing sunglasses that provide 100% UV protection. Additionally, wear safety goggles when engaging in activities that may risk eye injury.


Rest Your Eyes: Give your eyes regular breaks, especially if you spend long periods in front of digital screens. Follow the 20-20-20 rule – every 20 minutes, look at an object 20 feet away for 20 seconds to reduce eye strain. 
Remember, effective treatment for astigmatism can significantly improve your vision and overall quality of life. By incorporating these tips into your daily routine and maintaining regular eye care, you can successfully manage astigmatism and enjoy clear and comfortable vision. 
Want to learn more about astigmatism? This blog covers the common types and categories of astigmatism. 
Treat Astigmatism with Oxford Family Vision Care 
Astigmatism is a significant challenge for those who suffer from it. This common condition makes it difficult for those suffering from it to see clearly, and they may often face blurry vision, headaches, the need to frequently squint, eye strain, or trouble seeing at night.  
Fortunately, those with astigmatism can find improvement with treatment and regular visits to the eye doctor. If you are looking for an optometrist that cares about your needs and always puts you first, then it is time to schedule an appointment with Dr. Collins at Oxford Family Vision Care in Butler County, Ohio. 
Dr. Collins has decades of experience helping people in the Oxford area reclaim their eye health. He can help you too.  
Click here to contact Oxford Family Vision Care today!  
Follow Oxford Family Vision Care on Facebook and Instagram for more free vision care content!  
Satisfied with the Oxford Family Vision Care difference? Leave us a five-star review here!