Eye Safety Tips for The Workplace
Eye Safety Tips for The Workplace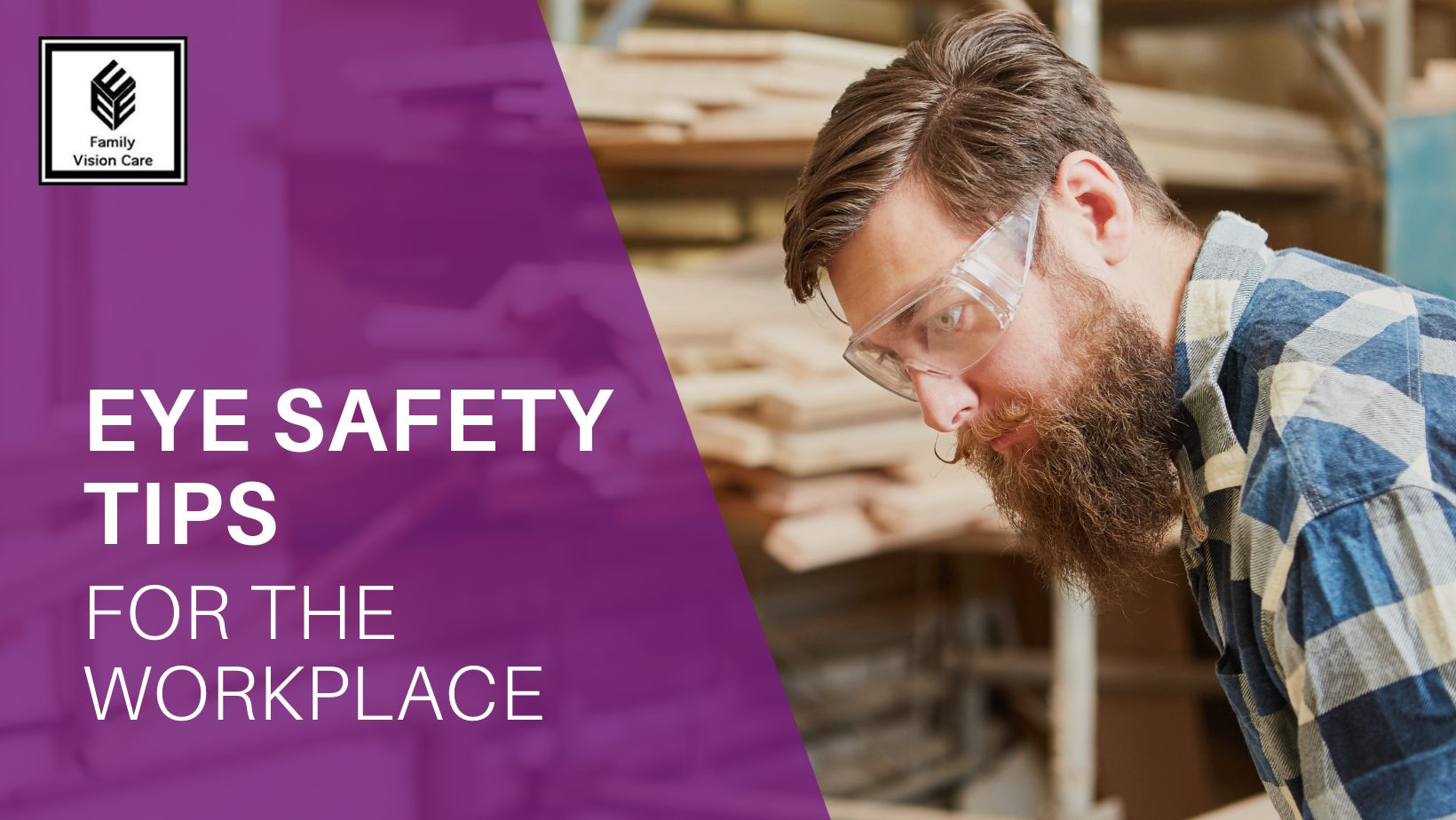 Your eyes are one of the most important parts of your body.
You rely on your eyes to perform your job, as well as other tasks like driving your car, watching your favorite television shows, and performing all the activities you enjoy.
However, if you work a job that has frequent flying debris or other hazards to your eye health, then you are at serious risk of damaging your eyes if you do not take the proper safety precautions.
Prescription changes can impact your eye health and safety glasses needs. Learn more here.
Wearing protective eyewear is one of the best ways to protect your eyes from hazards, but there are other eye safety measures you can take in the workplace.
Every day, 2000 US workers sustain eye injuries that require medical attention, according to the National Institute for Occupational Safety and Health.
In this post, we will look at the top hazards for eye health in the workplace, and give you some eye safety tips to help you better protect your own eyes, or the eyes of your employees.
These Are the Most Common Eye Hazards at Work
There are two main reasons workers injure their eyes in the workplace. First is that they are not wearing eye protection, and second is that they are wearing the wrong kind of eye protection.
Wearing eye protection (and the right kind) is incredibly important, as many workplaces have hazards that could cause eye injury or even blindness in case of an accident.
Here are the three most common threats to your eye health that eye protection at work can protect you from.
Projectiles like dust, metal, wood, or other flying particles


Chemical hazards like splashes or fumes


Radiation light visible light, ultraviolet radiation, heat, infrared radiation, and lasers.


Bloodborne pathogens like hepatitis or HIV from bodily fluids
You can face threats to your eye health in many different work environments, from workshops to laboratories. For each of the threats listed above, different types of eye protection are necessary to ensure that your eyes and vision are protected from workplace harm.
Regular eye exams can help protect you from these threats and keep your eyes in healthy condition. Learn more here!
Eye Safety Tips to Protect Yourself at Work
Goggles are a great option for eye protection, but not every pair of goggles is right for every situation. The goggles you need to protect against chemicals are different than those that will protect against flying debris.
Be sure that you are well-researched on what you or your workers need to properly protect against workplace hazards.
Let's quickly look at some of the most common and helpful tools for eye protection.
Goggles. There are many different kinds of goggles, and each variety has a different purpose when it comes to protecting the eyes. Get goggles meant for your specific profession and work environment to be sure your eyes are protected.

Face shield. Face shields are highly effective at protecting your eyes from flying particles and airborne contaminants. They are often worn in conjunction with other protective tools like safety glasses or goggles.


Safety glasses. Similar to goggles, safety glasses are great for protecting the eyes from flying debris, but they lack the same tight seal around the eyes that goggles provide.


Full-Face Respirators. Perhaps the most intensive of the protective tools, full-face respirators protect the eyes in addition to the lungs, mouth, and throat. These are ideal for protecting against chemicals or airborne pathogens.


Eye Health in Oxford Starts at Oxford Family Vision Care
Don't take your eye health for granted. Protecting your eyes on the job today could save you from serious complications or even blindness tomorrow.
Eye safety starts with protective practices on site and continues with regular eye appointments to help prevent and treat eye diseases that can seriously impact your vision.
How to Keep Your Eyes Safe from Germs.
If you are looking for an optometrist in Oxford, Ohio, just a short walk from Miami University. Oxford Family Vision Care is here for you!
Schedule your first appointment today and make sure your eyes are ready for anything that comes your way! Schedule your appointment here!
Satisfied with the difference Oxford Family Vision Care has made for your vision? Leave us a quick review here!
Make sure you see the best content around! Follow Oxford Family Vision Care on Facebook and Instagram for more free eye health and safety tips!