Your Guide to Selecting the Perfect Eyeglass Frames
Your Guide to Selecting the Perfect Eyeglass Frames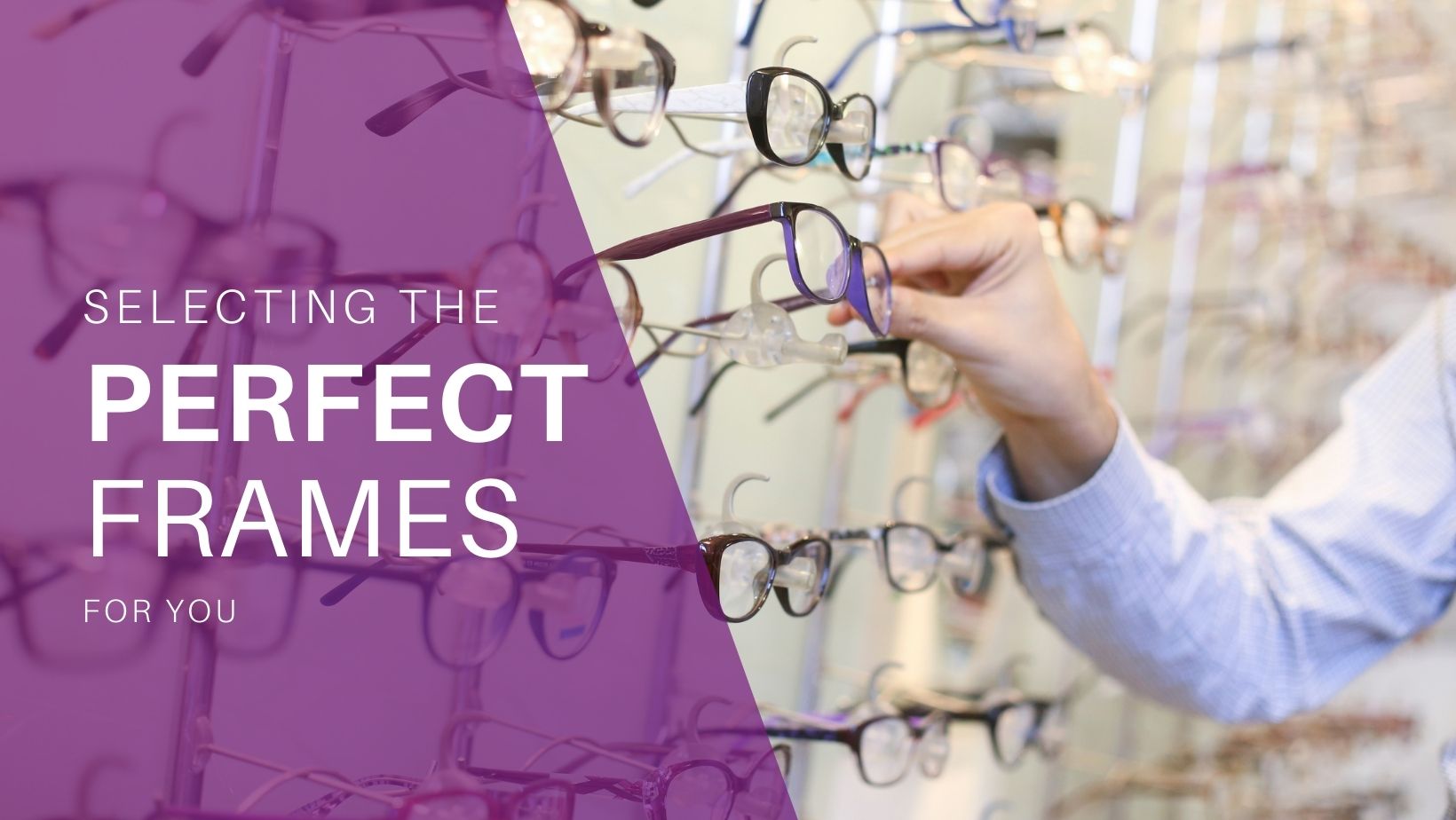 If you have ever had to select new frames for your eyeglasses, then you know the sheer number of choices can be overwhelming.
Selecting new frames shouldn't be a chore or an anxiety-inducing experience. It should be a fun opportunity to change your style and everyday look.
You don't need to be an expert stylist to select the best frames for you. All you need is a little bit of knowledge to make your decision.
For this post, we have created four steps you must take to find your perfect eyeglass frames.
Four Steps to Find the Perfect Frames
Finding the perfect frames may not be easy on your own, but when you use the four-step method below, choosing the best frames for you becomes a rewarding (and dare we say fun!?) experience.
Step 1: What is Your Face Shape?
The foundation for your style and beauty, your face shape determines which frames will look good on you.
There are many face shapes to choose from, so take a careful look in the mirror and determine which shape best describes your face.
Round Face
Square or rectangular frames tend to be the best for you. Round faces are friendly and inviting, rectangular frames help give you an edge. The defined corners of your frames draw attention to the eye and cause your face to appear slimmer and longer. Round faces paired with rectangular frames give the wearer a distinguished, intelligent look.
Be sure to avoid round or frameless eyeglasses as they will dull your features and make your face blend in with the crowd.
Oval Face
Oval faces are in luck, just about any frame shape and style look good. But what frames can you use to enhance your features? We recommend frames that are wider than the broadest part of your face (usually the cheekbone) and have a geometric shape. That means round frames are the lowest on the totem pole (but let's be honest you'll still rock them).
Oval faces have the most "frame-friendly" face shape, so be sure to experiment with your frame's shape and style. Who knows, you might just set a new trend.
Square Face
Square faces are known for their angular, sharp shape. Because of this, round or oval frames are best for your face type. Rounded frames help soften the sharpest angles in your face while drawing attention to your eyes.
Avoid sharp, boxy frames as they will make your face appear wide and bulky (and nothing could be further from the truth).
Diamond Face
Frames that are wider than your cheekbones are your friend. Diamond faces get to experiment with frames that other face-shapes cannot. Oval and cat-eye frames tend to look good on you. Wider frames show off your cheekbones and sharp chin.
Avoid overly narrow frames as they will blend in with your narrow features. Contrast is the name of the game for you.
Step 2: What is your Skin Tone?
Now that you have found your frame's ideal shape, you need to determine its color and tone.
You will want frames that compliment your skin color. Avoid colors that clash or blend in.
Cooler, lighter tones will want frames that are black, gray, or blue. Warmer, darker tones look good with a tan, pink, and red.
Consider the colors of your favorite clothes. Chances are they match your skin tone.
When at a loss, the best method is to compare. Try on some frames and determine what looks good against your skin. If you like the look, don't overthink it.
Step 3: It's all about Lifestyle
How do you live your life? What is your daily routine? What do you do? Where do you go? What do you see?
These questions all help determine which frames are best for you.
More active lifestyles require more durable frames. The last thing you want is to break your frames from intense activity. But likewise, you don't need the most durable frames if you are more of a homebody.
Eyeglass frames are made from many different materials, all of which are suited for different lifestyles.
Determine your lifestyle and you will determine the material of your frames.
Step 4: A Matter of Personality
The last (and most important) step is your personality.
In truth, all the other rules go out the window if your frames don't match your personality.
Frames are a window into who you are as a person. What you like, how you act, even your passions are reflected in the eyeglass frames you choose.
If you are quiet and shy, then you will want to stick to a more subdued frame, despite your face shape and skin tone. However, if you fancy yourself a wildcard, then non-traditional choices might be right up your alley.
When it comes time to make your choice, nothing else matters if the frames don't fit your personality.
Upgrade Your Frames
Nothing lasts forever, and that includes your eyeglass frames.
When it's time to upgrade your style with a fresh pair of frames, Oxford Family Vision Care is the only place to go.
We offer a wide selection of frames and colors so you can find the perfect frames for you.